Press Release
Hoan My Announces Strategic Partnership to Raise Quality of Care and Patient Safety Standards in Vietnam
02/08/2023
Hoan My Medical Group announces a strategic partnership with the Australian Council on Healthcare Standards International (ACHSI)
Hoan My will collaborate with ACHSI to raise quality of care and patient safety standards throughout Vietnam
The partnership is in line with the Vietnamese government's drive to deliver high-quality healthcare across the country
HCMC, August 1, 2023 – Hoan My Medical Group, the leading private healthcare group in Vietnam, and the Australian Council on Healthcare Standards International (ACHSI), a world leader in healthcare standards accreditation, have signed a new strategic partnership to improve the quality of care and patient safety standards in Vietnam.
Raising the Bar for Care
Under the partnership, Hoan My will deploy standards under ACHSI's global accreditation programme to ensure the highest international standards for the delivery of healthcare outcomes and patient experience in all Hoan My facilities. ACHSI standards ensure that patients follow a seamless, integrated care pathway from admission to treatment right through to discharge and follow-up care. The certification covers areas ranging from consent to medical record management and from risk assessment to clinical governance.
The strategic partnership with ACHSI comes just months after the Vietnamese government launched a major drive to raise the standards of care nationwide and Hoan My will work with ACHSI to create a higher quality of care throughout Vietnam.
"This is the latest stage of our mission to improve patient safety in Vietnam," said Dr. Dilshaad Ali Bin Abas Ali, Group CEO of Hoan My. "In partnering with ACHSI, we are making a clear commitment to raising standards throughout our hospitals and clinics. Our ambition to achieve and embed these international benchmarks shows that patient safety is our top priority. We will share these best practices to support the government's drive to raise standards nationwide for the benefit of all patients."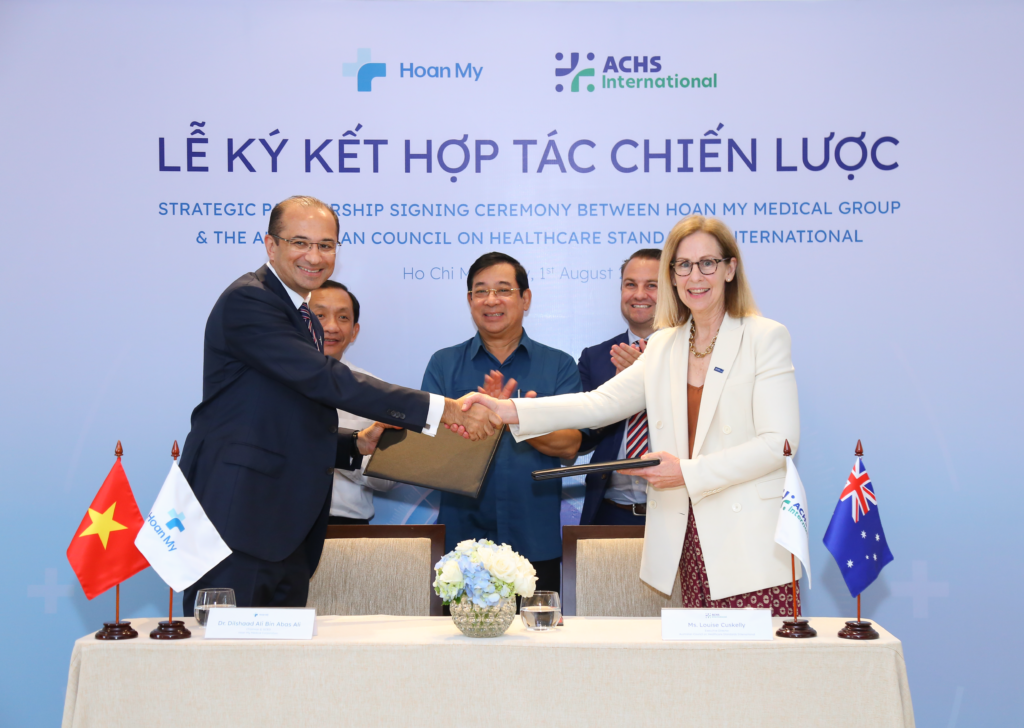 "Hospitals within the Hoan My network have consistently enhanced their quality, as recognized by the Ministry of Health's Quality Criteria, garnering exceedingly positive reviews," said A/Prof. Dr. Luong Ngoc Khue, Vice Chairman of the National Medical Council and General Director of Medical Services Administration, Ministry of Health. "Hoan My also actively accompanies the Ministry of Health on its journey to improve the quality of health care, putting the patient at the center. On behalf of the Ministry of Health, I welcome the meaningful cooperation between ACHSI and Hoan My Medical Group. This strategic partnership is totally in line with the overall direction of the healthcare sector, which aims to enhance the quality of healthcare and safety standards for Vietnamese people. Following their successful implementation of the Vietnamese quality criteria, the hospitals in Hoan My's network will also embrace other international quality standards, further elevating their healthcare services."
Through this new partnership, ACHSI will support Hoan My to improve patient safety and quality of care throughout its hospitals and clinics. Their team of international experts will provide hands-on training, advice, and guidance to help Hoan My clinicians and departments achieve and implement the EquIP7 standards progressively.
Focused on the patient journey, process flows, and person-centered systems, these standards are being applied in over 20 countries worldwide and are used to recognize hospitals that have demonstrated high-performing processes and shown a commitment to continuous improvement
"ACHSI is delighted to partner with Hoan My Medical Group, as we share a common mission to enhance patient safety throughout all their facilities. Together, we are dedicated to embarking on a transformative quality improvement journey, delivering exceptional support, and advancing healthcare services for patients." said Ms. Louise Cuskelly, Executive Director of ACHSI.
About Hoan My Medical Group
Hoan My is Vietnam's largest private healthcare network with 14 hospitals and 7 clinics. Comprising a workforce of more than 5,500 dedicated professionals, it serves more than five million patient visits a year. Hoan My provides a multi-channel range of care through three brands: Hoan My, Hanh Phuc and Prima. Hoan My was awarded the prestigious Labour Medal by the President of Vietnam three years in a row for its services to the healthcare industry. Hoan My is committed to delivering care with heart to patients across Vietnam, shaping the culture of the medical industry by increasing access to healthcare, setting new standards of clinical excellence and pioneering innovative treatments and services. Please visit us at www.hoanmy.com.
About ACHSI:
The Australian Council on Healthcare Standards International (ACHSI) is a private, independent (non-government owned nor funded), not-for-profit organisation dedicated to improving patient safety, quality, and outcomes through continuous quality improvement and long-term partnerships with healthcare organisations. In 2005, ACHS established a wholly-owned subsidiary called ACHS International to extend our services to global healthcare providers. ACHS International currently works with healthcare organisations in over 20 countries. To ensure we meet the highest standards of service and continually improve our programs, the ACHS is accredited by the International Society for Quality in Healthcare (ISQua) External Evaluation Association (IEEA) for our standards, assessor training program, and organisational management. All our standards are developed using the ISQua International Principles for Health Care Standards.