Hoàn Mỹ
Hoan My Scientific Conference In 2022 – "Medical Innovation In A Changing World" – Contribute To Raising The Quality Of Comprehensive Care For People More Better
09/12/2022
(Ho Chi Minh City, December 8, 2022)- Today, Hoan My Annual Scientific Conference 2022, with the theme "Medical innovation in a changing world," officially took place from 8th to December 9th at Riverside Palace Convention Center. The annual conference is a forum to help colleagues inside and outside Hoan My Medical system share knowledge and professional experience and update the latest innovation in the healthcare industry.
"Medical innovation in a changing world" was selected as the main topic of this year's conference in the context of the medical field, with many changes and challenges after nearly three years of the Covid-19 pandemic worldwide. This change has promoted the digitalization and telemedicine to become a new trend ad a prerequisite for the new development and application of medicine.
Speaking at the event's opening, Dr. Dilshaad Ali Bin Abas Ali, Group Chief Executive Officer of Hoan My Medical Group, shared that after three years of the Covid-19 pandemic spreading around the world, the health industry has faced many difficulties and challenges. That force us to find new ways to adapt and keep up to date with medical advances in medical care and treatment, helping to improve the healthcare quality.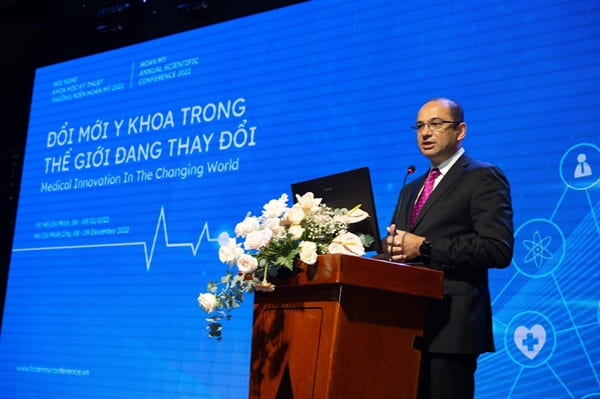 "Science has been improving as well as the speed of technological development, especially in the medical field. That's why we need to constantly update new knowledge to catch up with the world and meet the high requirements in healthcare activities. With the role of a leading private medical corporation with 25 years of development, we always give high priority to scientific research activities and promote the application of medical advances into healthcare activities, which turn Hoan My into an excellent clinical model in the medical field." Dr. Dilshaad emphasized. According to Dr. Dilshaad, soon, Hoan My will focus on developing key specialties, one of which is treating cancers, cardiology and diabetes with new methods and high efficiency.
Organized in collaboration with Ireland Enterprise, this year's conference attracted more than 400 health professionals, scientists, representatives of regulatory agencies under the Ministry of Health, administrators, and foreigners who attended with 20 thematic reports and 60 scientific researches. Accordingly, on December 8, the conference will have pre-workshops with new trends in infection control, electronic health, and breakthrough technologies and innovations in cancer treatment. On the topic of cancer, there are notable research papers such as "Evaluation of nuclear medicine in cancer," presented by Dr. Nguyen Duy Canh, Head of the Nuclear Medicine Department of Cho Ray Hospital, "the role of multidisciplinary consultant in oncology" by Dr. Dang Huy Quoc Thinh, Deputy Director of Ho Chi Minh City Oncology Hospital. This research will help update advanced technology in diagnosing cancer, detecting them in an early stage and improving the quality of treatment. At the same time, multidisciplinary consult, such as nutrition and exercise, will help patients to have a better lifestyle, adapt and prevent the further fast process of cancer.
The main session will take place on December 9th, including one overall session and three specialized sessions such as Surgery – Obstetrics, Resuscitation and Emergency, Pharmacology of Internal Pediatrics, Subclinical and quality management, and Nursing, with topics updated annually. In the Overall session, reports and research will provide updated knowledge in new fields, from management-related problems and medical economics to applications in cancer, surgery, pulmonology like COPD, enterology, and infection. The conference has remarkable research, such as "Infection of the resistant organism- prevention efforts" by Assoc. Prof. PhD. Le Thi Anh Thu, Group Chief Medical Officer of Hoan My Medical Corporation cum President of the Vietnam Infection Association, helps prevent antibiotic resistance, which has been increasing in Vietnam. "Classification of the cardiac risk factors with the hs-cTnI" by PhD. M.D Bui The Dung, Chief of Cardiology Hospital of the University of Medicine and Pharmacy, discusses a new laboratory test to assess the cardiovascular risk in every patient. Research "Pre-diabetes and risks on the cardiovascular system" by Assoc. Prof. PhD. Hoang Van Sy, Head of General Internal Medicine branch, University of Medicine and Pharmacy of HCMC. Regarding digitization, "digitization in rectal surgery" by PhD. M.D. Le Tuan Anh, Director of Oncology Center of Cho Ray Hospital, will update the trend of bringing surgical robots, combined with advanced technologies to make rectal surgery more accurate, less invasive, painless and highly effective. Digitization is also mentioned in many other research articles such as monitoring and treating patients through technologies to develop a home care model (Homecare) in Vietnam in the near future.
Regarding medical economics, Dr. Dilshaad Ali Bin Abas, GCEO of Hoan My Medical Corporation, will present "Key factors to promote effective integrative care." and Mr. Erwin Debaere, CFO of Hoan My Medical Corporation, will present "Macroeconomic trends impact on healthcare." Besides the conference, there was also an exhibition displaying new medical devices from Phillip, Abbott, etc., to introduce new equipment and technology applications in diagnosis and treatment.
After 7 National Scientific Conferences of Hoan My Medical Group has left many good impressions and is truly a place for the experts to exchange, provide, and update medical knowledge and advances in the medical field at home and abroad. At the same time, it affirms the position and role of Hoan My's leading private medical group in becoming the standard of clinical excellence and contributing more to the overall development of Vietnam's medical industry.