Press Release
Hoan My Medical Group and Siemens Healthineers Partner to enhance standards of healthcare in Vietnam
21/06/2023
Hoan My Medical Group and Siemens Healthineers sign Memorandum of Understanding to enhance standards of healthcare in Vietnam with new technologies.
Landmark partnership will include cooperation in specialties such as radiology, cardiology and Centers of Execellence in medical and surgical specialties.
The alliance furthers Hoan My's mission to lead innovation in private healthcare in Vietnam.
HO CHI MINH CITY, June 19, 2023 – Hoan My Medical Group, the leading private healthcare network in Vietnam, and Siemens Healthineers, the German medical technology giant, have signed a Memorandum of Understanding to advance healthcare in Vietnam. The landmark new partnership aims to harness the power of new technologies to improve standards of healthcare for patients in Vietnam.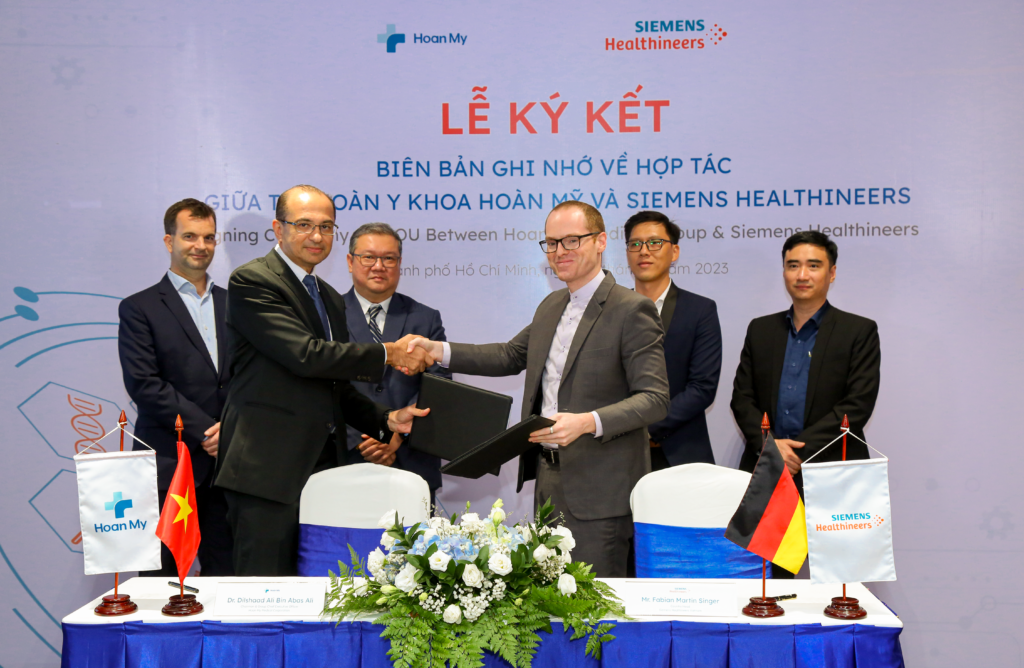 Driving Excellence
This strategic partnership is the latest phase in Hoan My's digital transformation and road to clinical excellence – a program to integrate and embed modern medical equipment, services and digital technologies throughout its network in Vietnam. In partnering with Siemens Healthineers, Hoan My aims to accelerate this transformation and deliver more seamless, efficient, and effective treatment and care.
The partnership will include cooperation in specialties such as radiology, using advanced medical devices like high end CT and 3T MRI machines to diagnose and monitor patients suffering from some of the most challenging diseases. The agreement will also see Siemens Healthineers work with Hoan My to improve its cardiology services through modern imaging techniques and digital technologies. The partnership aims to establish Centers of Excellence in medical and surgical specialties using international experts to deliver the most advanced specialized care in Vietnam.
"New technologies have the power to transform healthcare, enabling doctors to better diagnose disease and improve standards of care for patients," said Dr. Dilshaad Ali Bin Abas Ali, Group CEO of Hoan My Medical Group. "That's why Hoan My is optimizing our entire ecosystem so patients can experience more seamless, personalized healthcare. This strategic partnership is another step in our mission to be the pioneer of innovative private healthcare in Vietnam."
"Siemens Healthineers is excited to partner with Hoan My to achieve its goal of becoming the leading and most-trusted healthcare organization in Vietnam," said Fabrice Leguet, Managing Director of Siemens Healthineers Southeast Asia. "As one of the world's biggest medtech company, we can provide clinical insight, medical innovation, strategic vision, and implementation expertise to Hoan My, its medical professionals, and patients and I look forward to a long and productive partnership together."
About Hoan My Medical Group
Hoan My is Vietnam's largest private healthcare network with 15 hospitals and 6 clinics. Comprising a workforce of more than 5,500 dedicated professionals, it serves more than five million patient visits a year. Hoan My provides a multi-channel range of care through three brands: Hoan My, Hanh Phuc and Prima. Hoan My was awarded the prestigious Labour Medal by the President of Vietnam three years in a row for its services to the healthcare industry. Hoan My is committed to delivering care with heart to patients across Vietnam, shaping the culture of the medical industry by increasing access to healthcare, setting new standards of clinical excellence and pioneering innovative treatments and services.
Please visit us at: hoanmy.com
About Siemens Healthineers
Siemens Healthineers AG (listed in Frankfurt, Germany: SHL) pioneers breakthroughs in healthcare. As a leading medical technology company headquartered in Erlangen, Germany, Siemens Healthineers and its regional companies are continuously developing their product and service portfolio, with AI-supported applications and digital offerings that play an increasingly important role in the next generation of medical technology. These new applications will enhance the company's foundation in in-vitro diagnostics, image-guided therapy, in-vivo diagnostics, and innovative cancer care. Siemens Healthineers also provides a range of services and solutions to enhance healthcare providers' ability to provide high-quality, efficient care.
For more, please visit: siemens-healthineers.com