Press Release
Hoan My Binh Duong Private Hospital Receives Asian Hospital Management Award 2022, For Care Of Pregnant Women During Covid-19 Pandemic
12/09/2022
Today, Hoan My Binh Duong Private Hospital, a member of Hoan My Medical Corporation – Vietnam's largest private hospital group, announced that it was the only Vietnamese institution to receive an "Outstanding" award at the Hospital Management Asia awards in Bangkok, Thailand, on 8 September 2022.
This award is a testament to the dedicated efforts of all staff at Hoan My Binh Duong Hospital and Hoan My Medical Corporation in conceiving pioneering solutions to maintain the best quality services for the health and the safety of patients during the Covid-19 pandemic.
Hoan My Binh Duong Private Hospital contended with 267 nominated projects from 12 countries in the Asia Pacific region to earn the Excellence award for their project: "Transforming Business Sustainability To Create Safe Pregnancy Care Accessibility During the COVID-19 Lockdown".
At the HMA award, judges lauded Hoan My Binh Duong Private Hospital for its practical efficiency and compassion in caring for and safeguarding pregnant women during the outbreak of the COVID-19 pandemic, which caused many districts to lock down in 2021 – Binh Duong among them. At this point in time, most medical resources were used to treat COVID-19 patients, in particularly severe cases. Many non-Covid patients across the nation had concerns about access to medical facilities for safe treatment, especially pregnant women awaiting the birth of their babies.
M.D Tran Quoc Thanh, Director of Hoan My Binh Duong Private Hospital, shared: "Facing this difficult reality, we continually asked ourselves what could we do to help; to instill trust and bring safe care to people, especially pregnant women. With great determination and effort from among the entire team, we together created a breakthrough plan for ensuring the proficient care of pregnant women – with the utmost safety – during the COVID-19 outbreaks".
"The result was so heartening; the hospital actually recorded a ten-fold increase in newborns in comparison to the period before the pandemic (the year 2020). With dedicated care from our medical team, many new lives came into the world in a safe and compassionate environment, and all of them were born safely and in good health. During such a challenging time with the virus outbreak, this was an absolutely joyful result, lifting the spirits of the hospital's medical team.
"Asian Hospital Management award is a tribute to the tireless efforts of the Hoan My team. In giving our thanks for this award, we want to acknowledge Binh Duong Province's Department of Health and the associated departments, agencies, and of course our colleagues – for standing shoulder to shoulder, to ensure safety for our patients, especially pregnant women, and their newborns", M.D Tran Quoc Thanh stated.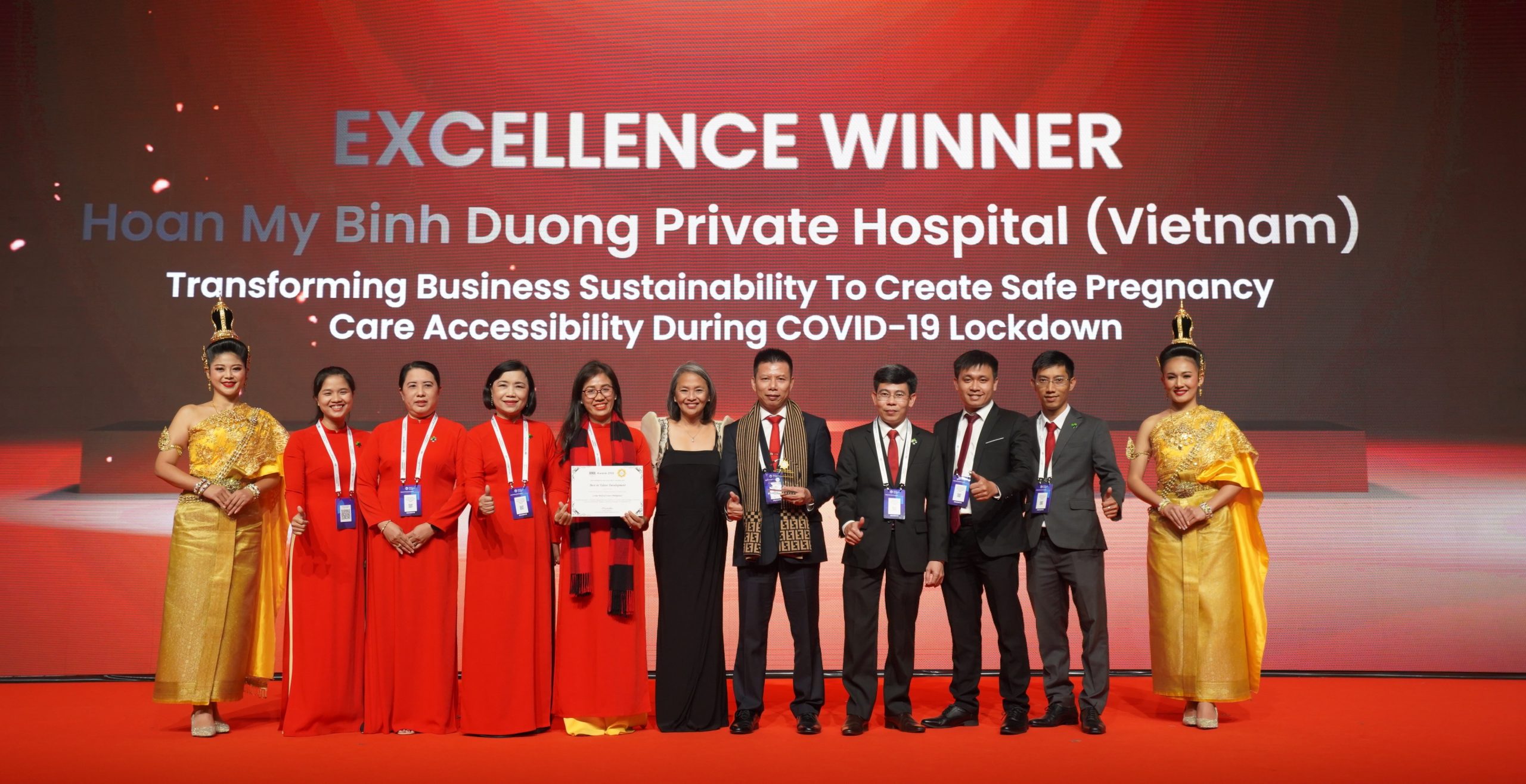 Since July 2021, Hoan My Binh Duong Private Hospital has implemented a change in the function of the hospital, from General to 80% Obstetric, to take care of pregnant women safely. For the project "A creative approach in caring for pregnant women during quarantine and the COVID-19 pandemic", the hospital effected and standardised COVID-19 screening for all pregnant women, as well as providing nutrition and safe transport, and also helping women through labour when Binh Duong province and other local areas were locked down due to quarantine. The hospital created an environment that was as caring and peaceful as possible in order to relieve stress from pregnant women, and to give them hope and peace of mind in welcoming their babies into the world during the pandemic.
Hoan My was awarded a score of 4.5/5 on the SERVPERF scale (a measurement of service quality approved internationally) by patients. Hoan My Binh Duong Private Hospital also received an honourable commendation from Binh Duong province's Department of Health, Thu Dau Mot's city mayor, and the President of Binh Duong Province.
Established in 2002, the Asian Hospital Management Association helps hospital owners, C-level executives, directors, clinicians and healthcare leaders improve outcomes and become increasingly efficient. This year, Asian Hospital Management Award focused on the subject "Digitalising healthcare services after the COVID-19 pandemic, to create the premise for an important and necessary revolution in the healthcare industry in the next decade".
In 2021, Hoan My Medical Corporation received an Outstanding award for the marketing and communications of its nursing documentary project "The Resilient Blossoms." Previously, other projects from Hoan My hospitals, such as Hoan My Da Nang, Hoan My Cuu Long, and Hanh Phuc International Hospital have also received this prestigious award.