Hoan My
Hoan My Thu Duc Covid-19 Hospital Officially Resumes Former Function as General Hospital, To Best Serve the Community
20/10/2021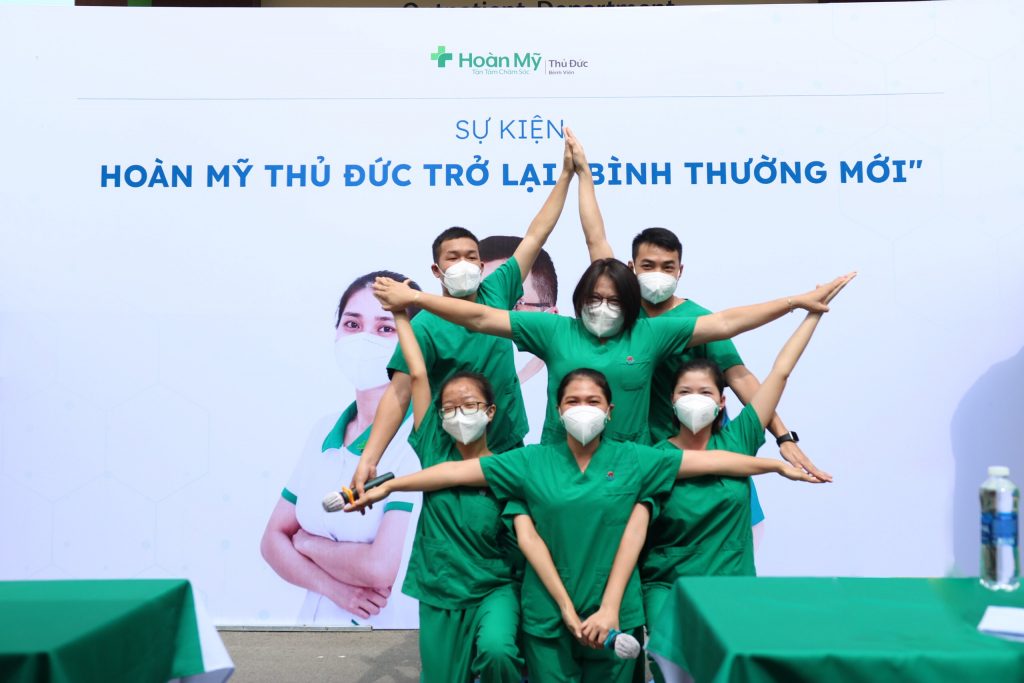 After more than two months serving as an emergency Covid-19 treatment centre, on 20 October 2021, Hoan My Thu Duc COVID-19 Hospital once again resumed its services as Hoan My International General Hospital. This marks the end of a historic period, where Hoan My Thu Duc became the first private hospital in Vietnam to dedicate its entire facilities to treating patients infected with COVID-19. The emergency centre served those affected in Ho Chi Minh City and the southern provinces during one of the most demanding periods of the fourth wave of the virus.
Over the past two months, hospital staff have placed their undivided focus on treating nearly 800 COVID-19 patients with moderate to severe symptoms. The patients received comprehensive care both during and after the period they were infected with the virus, with effective treatment predominantly limiting long-term consequences (sequelae), and enabling a quick recovery. Many severe and critical patients were treated and recovered well. The hospital admitted a high number of pregnant mothers who were F0 cases (confirmed as infected), and staff were able to safely deliver their babies. The hospital also provided special care for mothers and children to ensure that there was zero cross-infection and that they could be safely discharged, much to the relief of their families and the medical teams.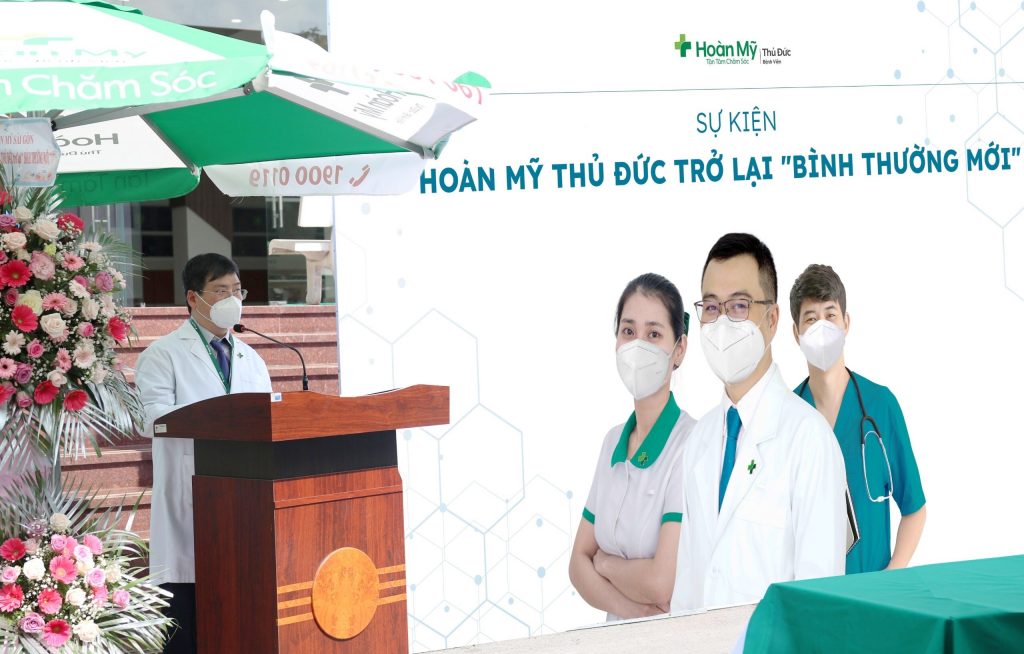 Having converted the hospital back to its former function in accordance with the 5K regulations, Dr. Nguyen Tuan, CEO of Hoan My Thu Duc International General Hospital, shared: "We are truly proud to have completed our mission in collectively contributing to the fight against COVID-19, alongside the people and the government of Ho Chi Minh City over the past two months. We believe that the decision to resume the hospital's general function is needed, in order to comply with the regulations of Ho Chi Minh City's healthcare sector, and to operate in the 'new normal'. In the spirit of readiness and urgency, we have made efforts to carry out disinfection control operations in every sector of the hospital to ensure safety for all patients and staff. Here, we plan to establish strict infection control procedures, install necessary equipment, and manage human resources and facilities in such a way that the demands for medical services are met in the coming new normal period. At the same time, we hope to maintain an independent COVID-19 treatment unit that can receive around 20 patients".
Hoan My Thu Duc International General Hospital will now concentrate its efforts on providing inpatient and outpatient medical services in all specialties, such as cardiology, gastroenterology, endocrinology, and others. In addition, the hospital will resume its handling of emergency cases through a system of outpatient medical services, responding to emergency calls (115), and establishing a 24/7 service. A TeleHealth Unit has been established to provide remote consultations for swift and flexible patient support. The hospital also continues its care provisions through screenings, disease control, and the effective treatment of non-communicable, acute, and chronic diseases. The hospital will provide high quality, affordable medical examinations and treatment for pregnant women, mothers, and children before and after delivery to ensure effective maternity and paediatric care.
Hoan My Medical Corporation and Hoan My Thu Duc International General Hospital (241 Route 1K, Linh Xuan Ward, Thu Duc City) made the decision to convert the hospital into an emergency treatment centre towards the end of July, when the outbreak surged in Ho Chi Minh City. With the approval of the People's Committee and Health Department of Ho Chi Minh City, the COVID-19 hospital began operations on 2 August with a capacity of 200 beds, with its second floor reserved for COVID-19 patients, in accordance with the Ministry of Health's three-story hospital model for treatment of the virus. The staff at Hoan My Thu Duc International General Hospital are proud to have contributed to combating the fourth wave – one of the most serious outbreaks of Covid-19 endured by Ho Chi Minh City and the southern regions.
–
About Hoan My Medical Corporation
Hoan My Thu Duc International General Hospital is a member of Hoan My Medical Corporation. Established in 1997, Hoan My has earned a strong reputation in providing affordable, high-quality, and patient-centric healthcare services, and serves as the leading private healthcare group in Vietnam. The Hoan My network includes 15 hospitals and 6 clinics located throughout Vietnam. Hoan My currently employs more than 5,500 people and received more than 3.8 million outpatient visits in 2020.