Hoan My
Hoan My Medical Group Provides Comprehensive Breast Cancer Diagnostics and Treatment 
25/08/2023
Hoan My Thu Duc International General Hospital hosts bringing together doctors, medical professionals and industry experts.
Shared aim was to further improve the detection, prevention and treatment of breast cancer – the world's most common cancer.
Event is part of landmark partnership between Hoan My and Siemens Healthineers that includes cooperation in specialties such as radiology, cardiology and Centers of Excellence in medical and surgical specialties.
August 23, 2023 – Hoan My Medical Group, the leading private healthcare group in Vietnam, today held a workshop on the early diagnosis and comprehensive treatment of breast cancer. The event was held at Hoan My Thu Duc International General Hospital and brought together doctors, medical professionals, and industry experts to discuss advancements in the prompt diagnosis of breast cancer and the accessibility of care. This workshop is part of a strategic partnership between Hoan My Medical Group and Siemens Healthineers, the German medical technology giant, that was announced in June. The partnership aims to leverage technological advances to enhance healthcare standards for patients in Vietnam.
Leveraging Technology to Improve Patient Care
Breast cancer is the most common cancer globally. In Vietnam, there are 34.4 reported cases of female breast cancer for every 100,000 women, making it the most common form of cancer among women and the third-biggest cause of female mortality. Prioritizing the timely screening and early diagnosis of breast cancer is of the utmost importance to enhance the efficacy of preventative measures, treatment, and patient survival rates.
Speaking at the event, Siemens Healthineers showcased its comprehensive approach: "Breast Health 360°". This is a customized range of solutions that cover all stages of the journey towards breast health. These include: continuous medical history monitoring, screening, and prompt detection; diagnostics and treatment choices; ongoing treatment and progress tracking; and post-treatment care and recovery. As a result, patients receive comprehensive care at the highest level, from screening and diagnosis through to rehabilitation and recovery.
During the workshop, Hoan My and Siemens Healthineers also shared updates about innovations in digital mammography, including a 50° wide-angle Tomosynthesis and PRIME technology aimed at reducing the radiation administered to patients. The 50° wide-angle Tomosynthesis enables the digital mammography system to adapt the force of compression for each patient's comfort during their scan. At the same time, PRIME technology contributes to a reduction of up to 30% in radiation dosage, all while maintaining consistent image quality. These advances enhance both screening and day-to-day diagnostic procedures.
"Early screening and diagnosis play an important role in the treatment of cancer, particularly breast cancer in women. Therefore, comprehensive management solutions and modern technology are vital to increase the efficiency of treatment and reduce the burden on patients," said Dr. Dilshaad Ali Bin Abas Ali, Group CEO of Hoan My Medical Group. "Through strengthening our cooperation with Siemens Healthineers, we will establish Centers of Excellence in cancer diagnosis and treatment to provide the best specialist care for patients in Vietnam."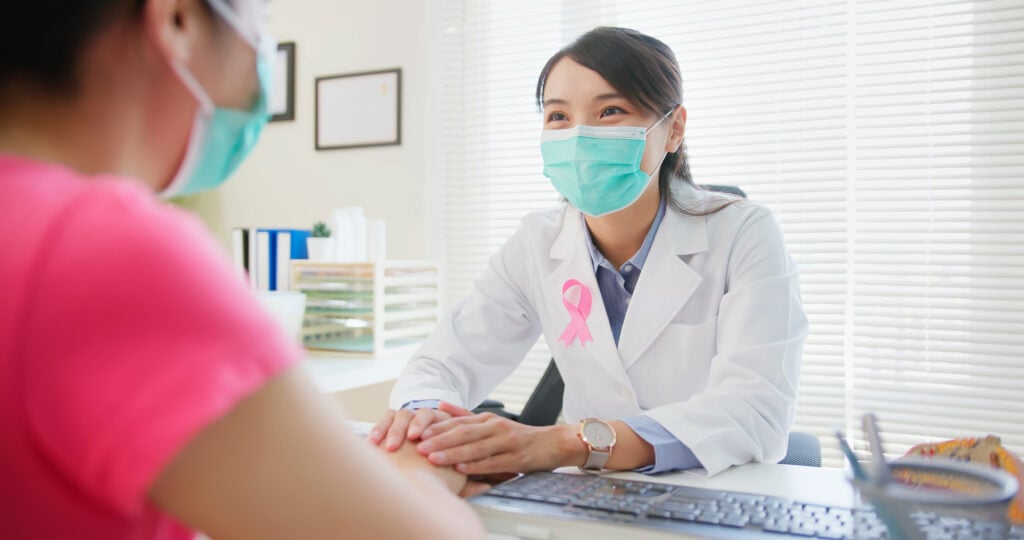 Hoan My Thu Duc International General Hospital, part of Hoan My Medical Group, remains dedicated to enhancing its professional expertise and treatment standards, catering to the needs of the community. As part of this mission, the hospital prioritizes scientific research, continuous training, and keeping up to date with the latest medical advancements.
The breast cancer workshop is just the latest stage in the long-term strategic partnership between Hoan My and Siemens Healthineers. This collaboration will ensure that patients in Thu Duc International General Hospital – as well as in Hoan My's 13 other hospitals and seven clinics – will benefit from the latest medical technologies and the best clinical outcomes in breast cancer, cardiology, and other specialties. Through this strategic partnership, Hoan My will continue to drive excellence across its network, delivering care with heart to patients throughout Vietnam.
About Hoan My Medical Group
Hoan My is Vietnam's largest private healthcare network with 14 hospitals and seven clinics. Comprising a workforce of more than 5,500 dedicated professionals, it serves more than five million patient visits a year. Hoan My provides a multi-channel range of care through three brands: Hoan My, Hanh Phuc, and Prima. Hoan My is committed to delivering care with heart to patients across Vietnam, shaping the culture of the medical industry by increasing access to healthcare, setting new standards of clinical excellence, and pioneering innovative treatments and services. For more information, please visit us at www.hoanmy.com
About Siemens Healthineers
Siemens Healthineers AG (listed in Frankfurt, Germany: SHL) pioneers breakthroughs in healthcare. As a leading medical technology company headquartered in Erlangen, Germany, Siemens Healthineers and its regional companies are continuously developing their product and service portfolio, with AI-supported applications and digital offerings that play an increasingly important role in the next generation of medical technology. These new applications will enhance the company's foundation in in-vitro diagnostics, image-guided therapy, in-vivo diagnostics, and innovative cancer care. Siemens Healthineers also provides a range of services and solutions to enhance healthcare providers' ability to provide high-quality, efficient care.
For more, please visit: www.siemens-healthineers.com/vn