Hoan My
Coronary Artery Plaque Successfully Treated in Elderly Patient With History Of Stroke
05/04/2021
Cerebral infarction is a pathological process that reduces circulation to an area of the brain, due to the narrowing or blockage of arteries or hypotension. Cerebral infarction accounts for about 80% of strokes. Its annual incidence rate is relatively high, at about 130 cases/100,000 people/year, and is especially common among elderly people with atherosclerosis.
Hoan My Saigon Hospital recently admitted an elderly patient, Mr. T.V.B. (75 years old) living in Ben Tre, for dizziness and unilateral paresis. Mr. B's family members said that he had sequelae of cerebral infarction and accompanying diseases such as coronary heart disease, osteoarthritis, gastritis and hyperlipidemia, but was showing improvement after treatment at local hospitals.
To accurately diagnose this patient, doctors carried out an ultrasound of the coronary arteries and a CT scan, finding intracranial stenosis, severe left carotid stenosis (90%), and medium right carotid stenosis (40%).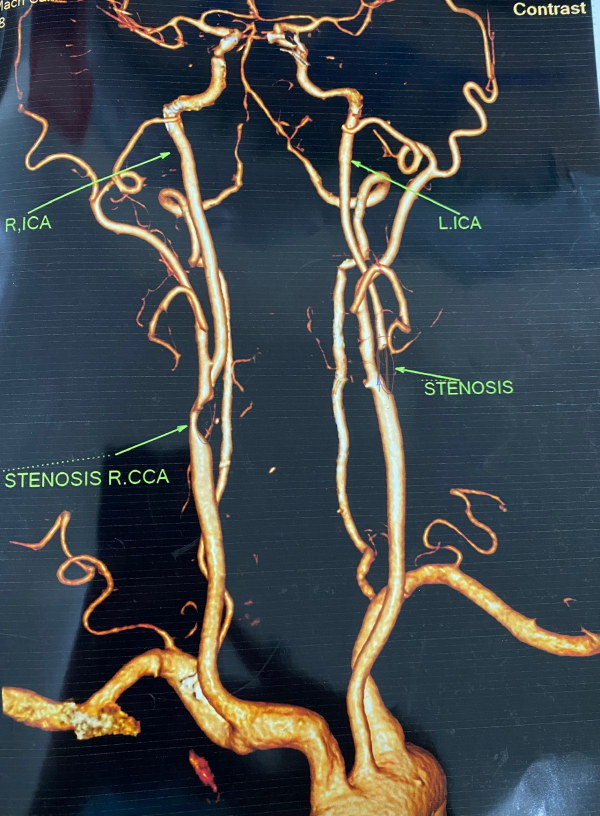 To treat the patient's condition, doctors performed surgery to remove the endothelium of the left coronary artery. Cao Minh Thong M.D., PhD, of the Department of Cardiology and Surgery said: "During the surgery, the doctors discovered many vulnerable plaques in narrow arteries. Many plaques in the walls of arteries cause a narrow diameter of only 1mm, almost completely blocking them (in normal arteries, the diameter is 15mm). This was a critical case, which risked recurrent cerebral infarction, or even death for the patient if not unblocked in a timely manner".
The surgery lasted 60 minutes. After the surgery, Mr. B was conscious, able to recognise his family, and recovered well; his unilateral paresis improved and the previously numbed arm now could move gently, restoring the same muscle strength as the opposite arm. Mr. B. has now been discharged from the hospital.
Dr. Thong added that since Mr. B also has right carotid stenosis of 40%, he will be further monitored from now on to prevent recurrence, and to improve his quality of life.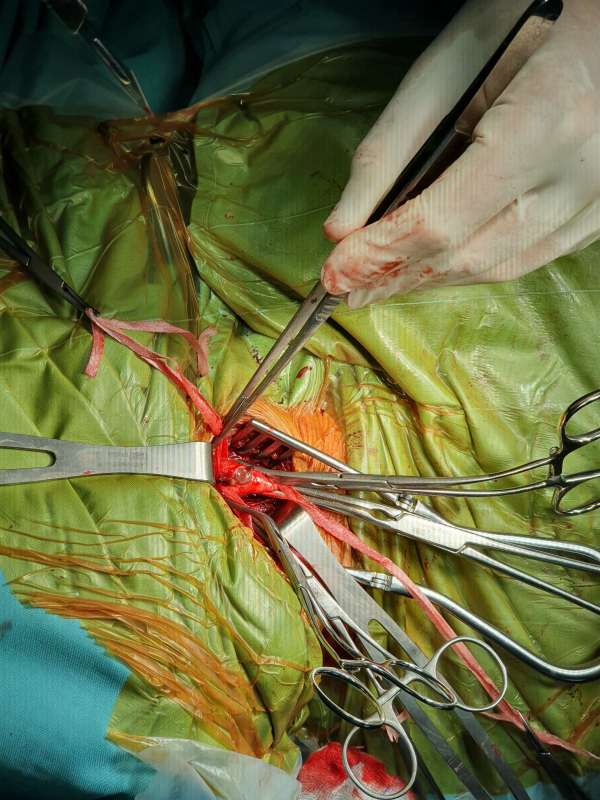 Mr. T.V.B.'s case is typical of one where we treat the root cause of the cerebral infarction, preventing recurrence and reducing the risk of stroke, especially among the elderly. Carotid endothelium removal is an effective surgical procedure to effectively treat carotid stenosis, with the advantage of a short surgery time and early discharge.
As recommended by Cao Minh Thong, M.D., PhD, of the Department of Cardiothoracic Surgery at Hoan My Saigon Hospital, people with a history of cerebrovascular disease and atherosclerosis, diabetes, cholesterol, and hypertension should have annual screening of their cerebral arteries. It is advisable to perform an ultrasound of the coronary arteries to detect possible plaque. If plaque is detected, doctors examine its properties and determine the prognosis, the severity of stenosis and occlusion of the coronary artery, in order to plan treatment of cerebral infarction from a very early stage, preventing recurrence and progression to stroke.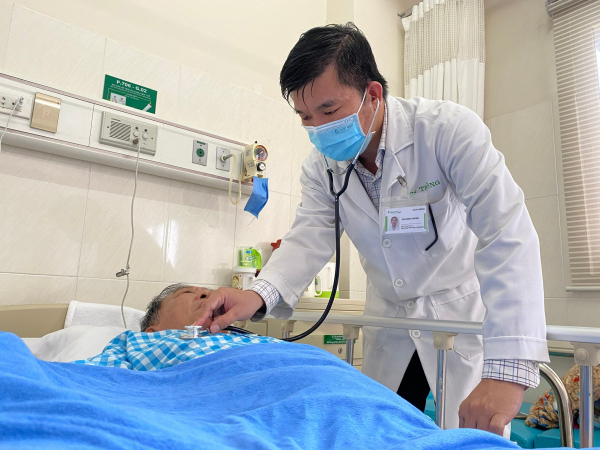 Hoan My Saigon is one of 17 hospitals in the city capable of admitting and treating stroke with a full range of procedures including treatment with recombinant tissue plasminogen activator (rTPA), intravascular intervention to treat thrombosis and surgery to dissect the lumen. With modern medical equipment to deliver accurate diagnoses and a team of doctors well-versed in the field of stroke intervention, we have successfully treated and handled many patients with a poor prognosis, bringing confidence and hope to the people in Ho Chi Minh City and neighbouring provinces.